During the worst of times is the best of times to help someone out. What better way to start a blessing cycle than to help someone who needs it!
Ansley Bailey is 7 years old, legally blind, and suffers from a host of physical disabilities. But that's not who she is. She's a beautiful little girl who wants to be independent and do things on her own. She's the daughter of a single mom, who's also a corporal at the Canton Police Department's Public Information division. She's loved, and loves, and she needs help.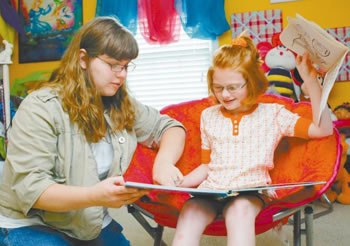 On June 1st of this year, a campaign kicked off to help secure a guide dog for Ansley from Paws for Disabilities. This dog would help keep her safe, and help her get around on her own, and help her mom and caregivers early warning when a seizure threatens. You can read more about Ansley in the Cherokee Tribune article dated 5/16/08, click here.
Jyl Craven Hair Studio, on Hwy 20 in Canton, recently gave over $9,000 for Ansley's guide dog. WOW!
If you can help, contact Stacy Bailey at 770-843-9509 or email us here at I2D via our contact us page.