We're continuing our Pinterest research in order to prepare for an upcoming class/workshop on the new Social Media marketing opportunity.
Today we're posting a recipe with photos for the most amazing homemade cinnamon rolls literally...EVER!
Follow Us!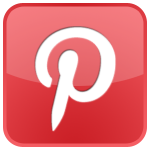 Amazing Cinnamon Rolls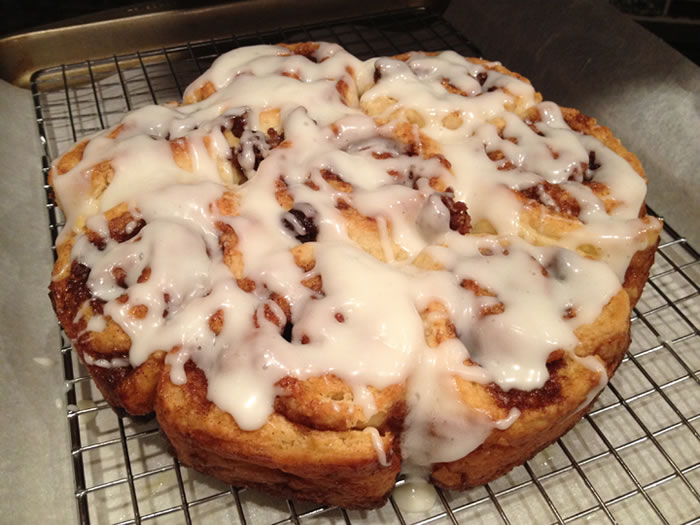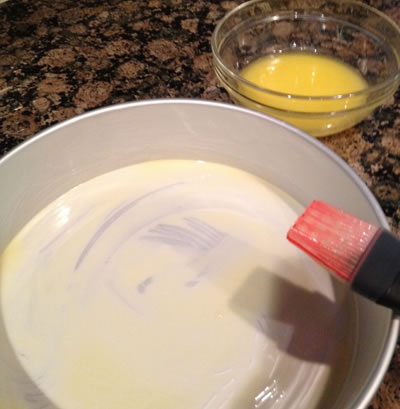 Preheat oven to 425. Melt 8 tablespoon of unsalted butter in a small saucepan. Using 1 tablespoon of the butter, brush a 9" cake pan to coat.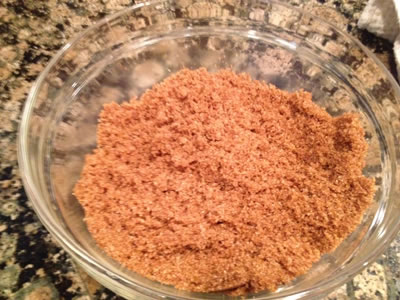 Make the cinnamon filling by combining 3/4 cup packed dark brown sugar with 1/4 cup white sugar, 2 teaspoons of cinnamon, dash of both cloves and salt, Add 1 tablespoon of melted butter and mix to combine until the mixture looks like wet sand (see photo above). Set aside.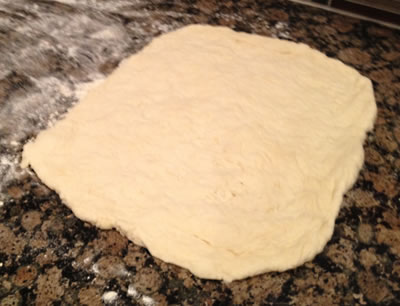 For your quick dough, whisk together 2-1/2 cups all purpose flour, 2 tablespoons sugar, 1-1/4 teaspoon baking powder, 1/2 teaspoon baking soda, 1/2 teaspoon salt in a large bowl. In a measuring cup, whisk together 1-1/4 cups of buttermilk and 2 tablespoons melted butter. Add to the flour mixture, stiring with a spoon until liquid is absorbed. Transfer the dough to a lightly floured surface and knead until just smooth. Pat the dough using your hands into a 12x9" rectangle.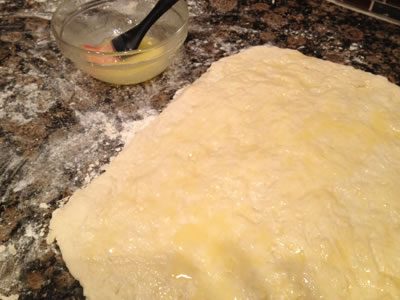 Brush the dough with 2 tablespoons of melted butter.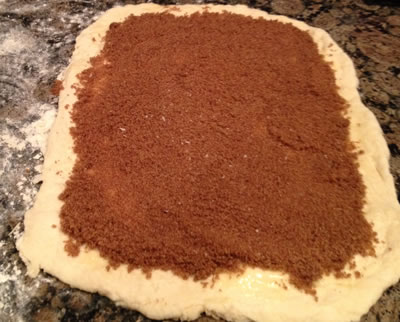 Sprinkle with the sugar filling, leaving a 1/2 inch border around the edges. Press the filling into the dough.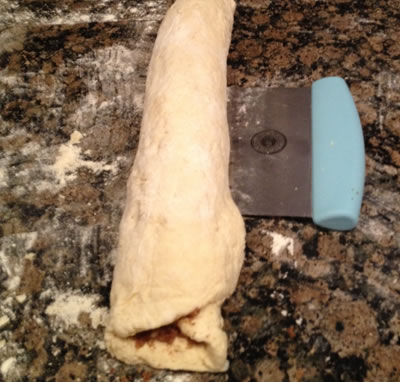 Starting from the long side, roll the dough, use a bench scraper or spatula to loosen it from the work surface, into a tight log shape.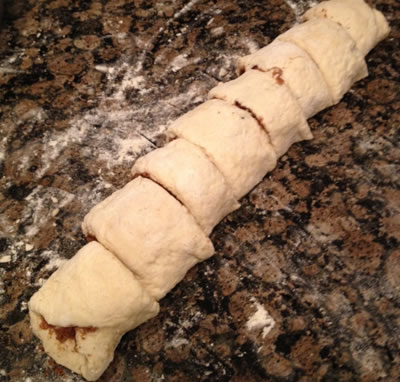 lace the log seam side down and cut into 8 even slices.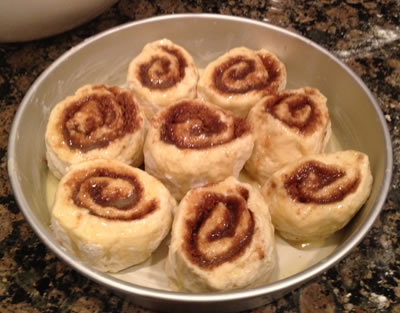 Press the seam edge together and put the slices in to the prepared pan as shown. Brush with 2 tablespoons melted butter.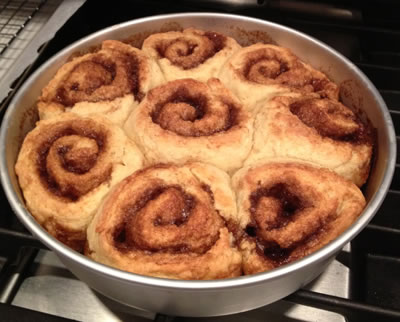 Bake until golden brown, about 23-25 minutes. While the buns are baking, prepare the icing by combining 2 tablespoons cream cheese at room temperature with 2 tablespoons buttermilk, Sift 1 cup of confectioners sugar over top, whisking to combine and removing all lumps, about 30 seconds to make the glaze. Remove the buns from the oven and invert onto a plate. Invert again onto a cooling rack with waxed paper underneath. Cool about 5 minutes then spoon the glaze over top of the rolls. Serve immediately for best results (but then again... who could wait!!??)
For more sweet marketing success stories, LIKE us on Facebook!