Every Advertising Design and Marketing Service is custom tailored to your business.
We begin with an outline of your goals, schedule and budget and can provide a complete marketing plan.
Each advertising service is also available a la carte.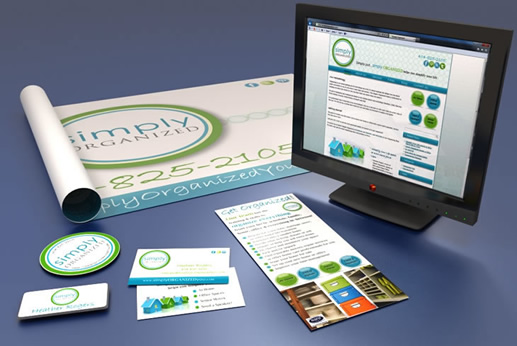 BUSINESS IDENTITY and BRANDING
Get your new company off to a great start or reinvent yourself! We offer original logo design, branding, and business identity development. We design and print business cards, letterhead and envelopes.
WEBSITE DESIGN and HOSTING
Your new, or improved, website should be one of your most effective advertising tools. No business today should be without a professional, search engine friendly website. Click here to view our Website Design Portfolio.
WEBSITE SEARCH ENGINE OPTIMIZATION (SEO)
What kind of traffic is your website receiving? Does anyone know you're out there? We offer organic, onsite optimization that gets results without monthly charges, pay per click or blacklist practices. Let us help you maximize the effectiveness of your online investment with inbound-marketing via SEO.
SOCIAL MEDIA CONSULTING
Promote your new or newly redesigned website via the most used and fastest-growing Internet phenomenon - social media. We'll show you how to benefit from Blogging, Facebook, Twitter, and LinkedIn. Promote your business website via viral, in-bound marketing on the Internet.
MOBILE MARKETING
As phones get smarter, consumers rely more and more on email, text messaging, internet browsing, and Apps for information and to keep in touch while on the move. Businesses need to utilize this fast moving technology and grasp its marketing opportunities. I2D designs Mobile Websites that load seamlessly on the iPhone, Android and Blackberry smartphones and allow customers to find you whereever they are. We also develop custom Apps for the Apple iPhone, iPod and iPad - giving you a world of new ways to reach customers.
IN-STORE ADS and DIRECT MAIL
Brochures, Posters, Flyers, Postcards, Ads and more marketing collateral designed to effectively deliver your message and coincide perfectly with your brand. We offer complete printing services.
CATALOGS and ECOMMERCE
Whether printed or online via an Ecommerce website, we share over 40 years of catalog design and production experience. Let us market your products via catalogs.
MULTIMEDIA
Sights, sound, music, motion combine to sell products and services on CD business cards, website banners, trade show or in-house kiosks, sales meetings...more! View!
MARKETING CAMPAIGN DEVELOPMENT
Marketing Plans and Marketing Campaigns, Website Content, Website Promotions, Email, Newsletters, E-zines, Article Marketing and more to support all of the advertising services.
BUSINESS PRESENTATIONS
Don't feel overwhelmed by PowerPoint. I2D will design your business slide show to make you shine during your next presentation with custom slides, custom graphics and more!
We are committed to our clients and deliver projects ON TIME.
Review our business client list.
All work is on a contractual basis.
Please review our Pricing and Terms.