Lots of businesses have custom Tabs on Facebook for interactivity, they're customizing the fan's experience and offer more on their Facebook fan pages. Small businesses can do the very same thing with their social media marketing efforts!
Ready to take your Facebook page to the next level? The ability to create custom Tabs on Facebook make the social media site a much more functional tool for branding your business, engaging fans, and promoting specials (events, coupons, contests, etc).
Welcome Visitors:
Custom Tabs can convert visitors into fans using a Landing or Welcome Tab. The Tab should explain to users what they get for liking the page, what the brand is about, and how the brand can help them.
Don't forget to remind users to "Like" your page.

A landing Tab can help you more effectively capture new fans, and it makes your page more professional and useful by including store locations, offering a coupon, a contest or form, or offering Facebook exclusives. If you're familiar with HTML you will have no trouble working with iFrames to develop a custom tab. If not, check with your webmaster.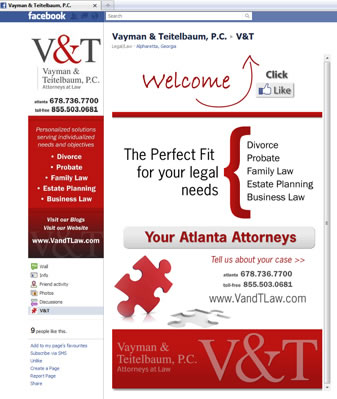 This is a custom Welcome Tab that Inspired 2 Design just completed for an Atlanta law firm. It may look a little funny with the arrow pointing to no Like button, but I am already a fan, so I wouldn't see this Tab come up when I visit their FB page. Visit Facebook and search for Vayman & Teitelbaum, PC to see the way it works, then click the Like button so you can take the experience all the way through.

The point is to bring a custom experience to new visitors coming to your fan page - either by telling them who you are and what you offer, why to 'Like' the page, and what you will give them when they do.
Interactive Forms
Custom Tabs are not just for welcome screens. Mommy C's Healthy Dog Bites has two custom Tabs. One is called Doggimonials and the other lets you sign up your dog for their birthday club. These interactive Tabs give the company a great way to get feedback from their fans and gather data for future mailings, and future promotions.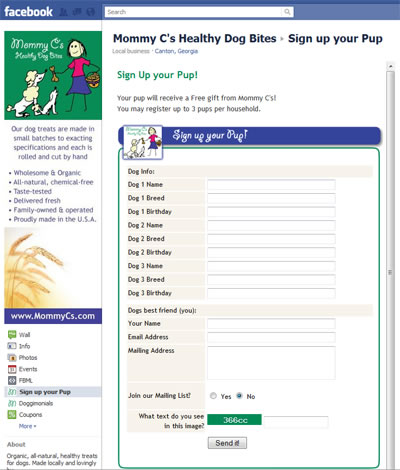 Unlimited Applications
Lots of businesses have custom Tabs for interactivity - especially the big national brands like Coke, Pepsi, Tiffany & Co. to name a few. If you're looking to customize the fan's experience and offer more on your Facebook fan page, contact us.