Ok, so this post is not really about marketing, but hey, you gotta eat right? Sharing this classic Italian family meal with our I2D family is something we feel our friends and followers will appreciate. So here's our Sunday Dinner (usually reserved for Easter or Christmas), but felt right on a September Sunday.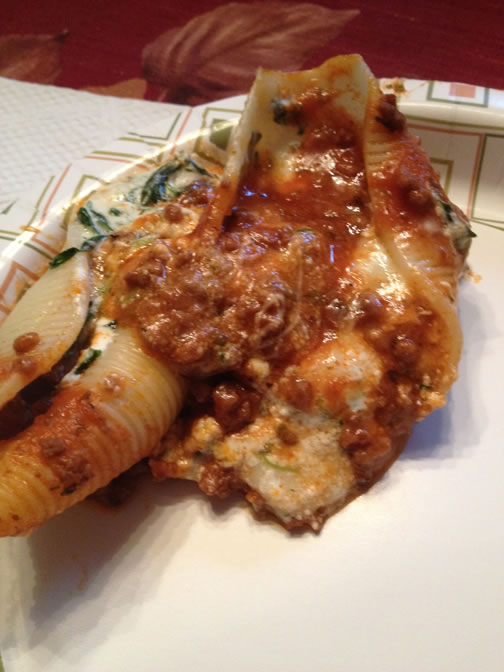 Italian Stuffed Shells
Start with boxed pasta shells. I like Ronzoni, but any brand will do. Typically, when Publix does a BOGO offer, they don't include shells or lasagna noodles which is unfortunate because making two boxes is pretty standard when you're going to so much trouble to make this dish.
Next, get your Sunday Sauce cooking! I always cook my sauce with at least a beef and a pork added. This sauce was actually a meat sauce with italian pork sausage. Never use any preseasoned or jarred sauce, but I think using plain ole canned sauce rather than canned tomatoes is okay. We generally like our sauce smooth and not chunky. Season with garlic, onion, basil, parsley, oregano, grated cheese (I only use Locatelli Romano), and of course Italian red wine! I don't salt my sauce - I think it has enough when using canned sauce to start.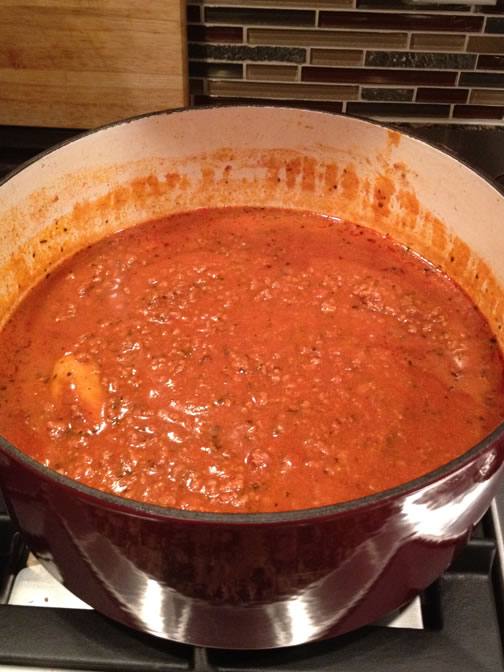 My sauce simmers all day on the stove... depth of flavor for sure!
Your cheese filling is critical to the success of your Stuffed Shells. I use Polly-O brand Ricotta and Mozerella, more Locatelli, an egg, a tablespoon of parsley, about a teaspoon of garlic powder, and spinach (I use a package of Green Giant frozen spinach defrosted and well drained) in my filling. Usually for 2 boxes of shells you'll need the big size Ricotta and Mozerella. Chop the mozerella into small pieces and add to the ricotta in a large bowl. Add all the other ingredients and mix well.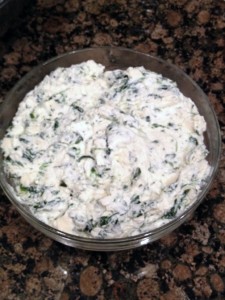 Boil the water for the shells and cook according to the shortest time on the package (since we're going to bake these you don't want them too soft). I absolutely LOVE my All-Clad stainless pasta pot for this! DON'T SALT UNTIL THE WATER BOILS! Add about a tablespoon of salt, then add about a dozen shells. We cook the shells in batches so that we can fill them without having to rinse. If you cooked both pounds or even one pound all together, they'd be sticking and tearing in the pot while they're waiting to be filled up. While the first batch is cooking, get your 13x9" baking pan ready (glass or aluminum throw away) by spreading a ladle-ful of sauce on the bottom of the pan.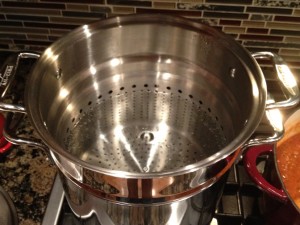 Once the first batch of shells comes out, start filling. I find a teaspoon works best. If you squeeze the shell end to end, it will open up for you to fill. Set the shells down in the prepared baking pan all facing the same direction.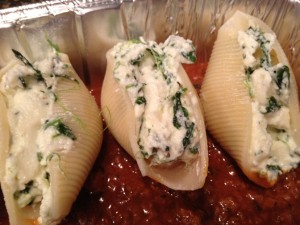 Once your pan is filled, spoon some more sauce over top of the shells and sprinkle with more grated Locatelli.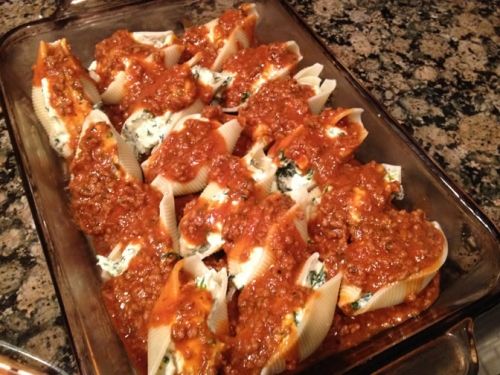 Cover with foil and your shells are ready to bake in a 350 degree oven for about 25-30 minutes until heated through to a temperature of 150 degrees to ensure the egg is cooked.
Remove from the oven and let the shells stand covered for about 10 minutes to set. Serve with the meat and extra sauce, and some garlic bread on the side... delizioso!